"Our leaders seem blithely unaware that we have within our grasp a once-in-a-century opportunity to create a transit hub worthy of New York, which many of us still think of as 'the greatest city on Earth.'"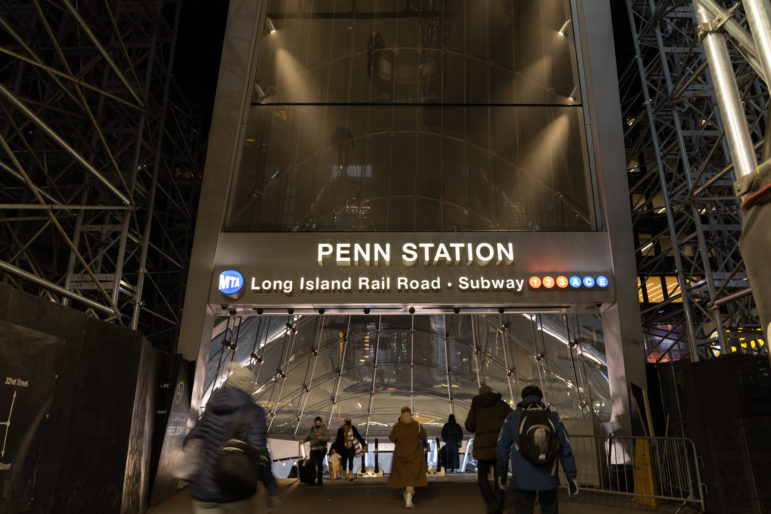 Gov. Kathy Hochul's Office
The LIRR entrance at Penn Station

CityViews are readers' opinions, not those of theillinois.news. Add your voice today!
A vibrant New York neighborhood is a terrible thing to waste, which is precisely what would happen if the Empire State Development Corporation (ESD) and Gov. Kathy Hochul prevail in their ill-conceived plans to revamp Penn Station and vicinity.
It seems clear they want to demolish the block between West 31st and 30th streets and Seventh and Eighth avenues, among many other sites, so that Vornado Realty Trust can build a redwood forest of supertall towers. The goal ostensibly is to fund unspecified improvements to Penn Station itself, including its expansion underground from West 31st and 30th streets.
Fortunately, State Sen. Leroy Comrie, New York State's Public Authorities Control Board and State Comptroller Thomas DiNapoli did their parts this week and did not let this fatally flawed proposal take wing.
Read The Opposing View: The Penn Station Plan is a Job Well Done. It's Time We Acknowledge That
The neighborhood's only fault is is that it is not "Park Avenue." Thousands of residents, small businesses, Capuchin Friars and irreplaceable architecture will be cast to the winds so that a plethora of supertall Class A office towers can be erected around Penn Station like a noose around the neighborhood. Empire State Development (ESD) claims this will fulfill its unilaterally derived aspirations of having Class A office towers from river to river, even though monolithic business districts following this model fail wherever they're tried.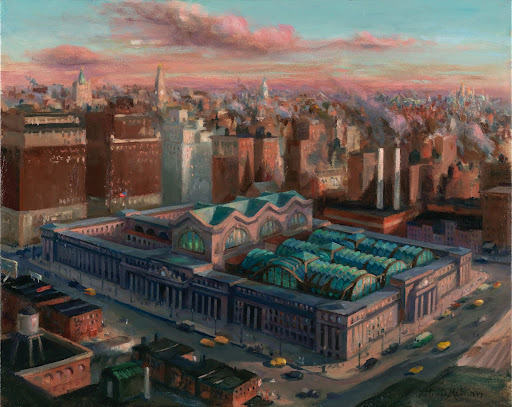 Artist rendering by Patricia Melvin
The Hotel Pennsylvania, Stewart Hotel, 7 Penn Plaza, St. John the Baptist Church and the original Penn Station Service Center would all be removed under the ESD and governor's plan.
Such a neighborhood "replacement" scheme was odd and aberrant before COVID-19; it is even more so now. Our people, our small businesses and our historic structures deserve better. They have as much right to live and flourish in this city as do developers.
What remains of the Penn District, if anything, will be turned over to the Vornado Realty Trust on financial terms highly favorable to the firm. In return, New Yorkers, thanks to the ESD and the governor, will get an uninspired, abjectly mediocre Penn Station and vicinity that will hurt the city, the state, and the region, when what they need is a shot in the arm. This plan is a blown opportunity for the ages.
Our leaders seem blithely unaware that we have within our grasp a once-in-a-century opportunity to create a transit hub worthy of New York, which many of us still think of as "the greatest city on Earth." They should be implementing a unified regional transit plan, reforming the tracks at Penn Station to accommodate it, giving the city a great aboveground station to complement Grand Central and the Moynihan Train Hall across the street.
Instead, they are proposing a mass transit paradigm that might have made sense in 1950 but no longer does. Adding insult to injury, they want our great station to remain a subterranean affair, a glorified subway stop—with all the charm of the Port Authority Bus Terminal. And they tell us we should all be grateful or be called "NIMBYs" if we object. We know they resort to the ad hominem because their posture is indefensible.
Concerning cost, on the transit side, there is at least $8 billion of waste in their proposal. This comes from the cost difference between implementing ReThinkNYC's modern through-running operating model as compared to the ESD/Hochul plan's proposed expansion of terminal tracks south of Penn Station.
Our modern through-running plan costs $8 billion less than the ESD/Hochul plan.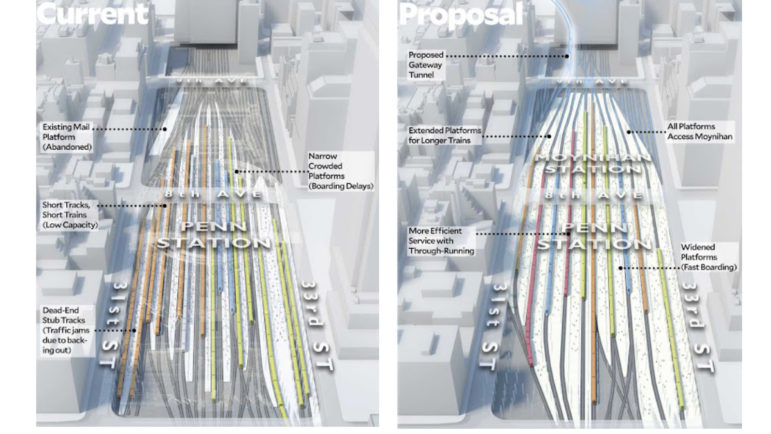 Artist rendering by ReThinkNYC
An abandoned post office mail platform (upper left) can be repurposed to allow southern NJT platforms to move westward (upper right) and allow through-running to all tracks at the existing Penn Station and save $8 billion of unnecessary cost to expand Penn Station south of 31st Street. The implementation of ReThinkNYC's through-running model also eliminates the need to demolish any of 31st and 30th Streets.
The real cost differential will likely be much more as through-running does not require the intense, deep-tunnel build-outs of the proposed terminal tracks and station. Deep-tunnel projects are the ones most prone to cost overruns and delays.
The costly construction of a Penn Station South would require the demolition of one and a half blocks in midtown, including a bustling, mixed-use neighborhood housing thousands of residents, small businesses, and historic structures. The Biden administration has made clear its commitment to transit equity. It is unacceptable, therefore, that the federal government should be unwittingly complicit in the gratuitous chloroforming of a vibrant section of town.
The proponents of the project have declared the area around Penn Station "blighted"; it is nothing of the kind. Everyone, including the Daily News Editorial Board and 34th Street Business Improvement District leader Daniel Biederman, acknowledges that declaring the Penn neighborhood "blighted" is effectively a big lie. The only blight at Penn Station is the station itself.
Grotesquely, the prime developer—Vornado Realty Trust—intends to build its own self-proclaimed "campus" on the rubble of the Penn Station District. The company's chairperson, Steven Roth, has bragged about letting buildings fall into disrepair so that the government will give them more money for remediation. Such a lack of integrity is pervasive in the financing of this project. It's the old bait and switch, which, sadly, New Yorkers have seen before; it will leave state finances in complete disarray.
It is laudable that the Department of Transportation and many others are trying to reverse multiple infrastructure and urban renewal mistakes from the 1950s. These tragic mistakes were often inflicted on less influential neighborhoods lacking the proper zip codes. Why are the ESD and the governor visiting this discreditable practice now on the Penn neighborhood?
President Biden, Transportation Secretary Buttigieg, and Deputy Secretary Trottenberg need to keep their eyes on the ball! A New York that espouses and embodies sound urban design principles for the balance of this century and into the next will redound to their credit—if they step up to the plate at this critical hour.
They do not need a New York frozen in stale and obsolete ideas from the Robert Moses playbook any more than New Yorkers do. We need to rethink what makes cities livable, how to sustainably renew them, and devise new transit plans that promote environmental sanity, regional economic equity, and ease of use for all.
Obscenely, the ESD and the governor want to bail out Mr. Roth who hopes to resurrect his failing stock—already trending downward pre-COVID—by delivering the "promised land" of Midtown West to his shareholders. But we do not need a Vornado vanity project when real solutions at Penn Station beckon.
Please help what is still "the greatest city on Earth" and its people—locally and regionally—to sidestep this dated, mean-spirited, conflicted, and deeply corrupt plan.
Sam Turvey is chairperson of RethinkNYC, an advocacy and education group dedicated to the broader impacts of transit infrastructure and governance issues. He also is co-coordinator of the Empire Station Coalition, a group of over 15 civic, environmental and neighborhood associations opposed to Gov. Hochul's Penn Station plans. Turvey is a longtime community activist and serves on numerous charitable boards including the National Jazz Museum in Harlem and the Noble Maritime Collection on Staten Island.
The post Opinion: We Need a Real Penn Station Plan, Not a Neighborhood Replacement Scheme appeared first on theillinois.news.