"Dissolving our building's Mitchell-Lama status would be a small but significant injustice in an already deeply unequal city. Shareholders who have long benefited from the program would be autonomously divesting some of the city's affordable housing stock, and profiting from the conversion."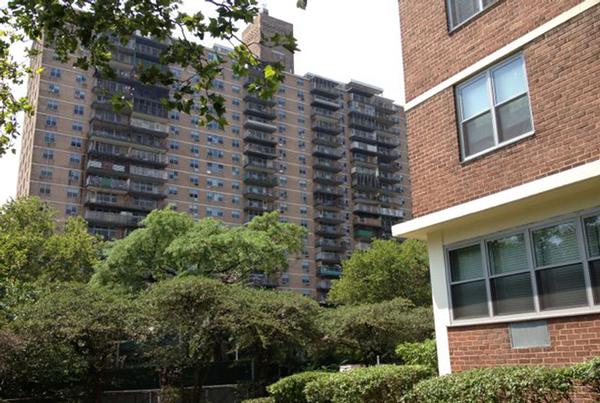 Tobias Salinger
The Lindsay Park Mitchell-Lama co-op in Williamsburg.

CityViews are readers' opinions, not those of theillinois.news. Add your voice today!
Since I moved in at Cadman Towers with my partner two years ago, I have felt exceptionally lucky to benefit from the uniquely affordable arrangement that is the New York State Mitchell-Lama program. Subsidized by the city and state in the form of generous tax abatements and public financing opportunities, Mitchell-Lama housing was created so that families with modest earnings could afford to put down roots in the city, and so that prices would not lurch upward every time a unit turned over.
So it was alarming when, in December of 2021, our board of directors formally submitted a plan to take our building out of the Mitchell-Lama program. The process, known as "Article 2 to Article 11 conversion" in housing law parlance, would reconstitute our public, subsidized housing complex as a much more expensive, semi-private HDFC co-op. This threat of semi-privatization has raised the concern of Mitchell-Lama coalitions across the city. Advocates of affordable housing who have long fought to protect one of New York City's signature low- and middle-income housing programs now worry that other Mitchell-Lama boards will follow Cadman's lead in attempting to dismantle this important public good.
Most saliently, 2-to-11 conversion at Cadman Towers would entail a spike in sales prices. Outgoing shareholders could sell their units for four or five times the initial equity they invested, and pocket half of the sale. A two-bedroom unit at Cadman that currently costs $60,000, for example, would go for about $300,000—still a steal compared to stratospheric market rates in our neighborhood, but now out of reach for the majority of New Yorkers. Those who had been waiting for years for a Mitchell-Lama unit would be left in limbo, since the city-run, external waiting list of prospective residents would be discarded. Outgoing shareholders would bypass the previously regulated sales procedure, and find their own buyers on the market.
Dissolving our building's Mitchell-Lama status would be a small but significant injustice in an already deeply unequal city. Shareholders who have long benefited from the program would be autonomously divesting some of the city's affordable housing stock, and profiting from the conversion. As the saying goes, we would be "pulling the ladder up from behind us."
As the veteran activists in my building's pro-Mitchell-Lama organizing committee—the Committee to Preserve Cadman Towers (CPCT), of which I am a member—have informed me, the present conversion effort is only the latest of many attempts by some Mitchell-Lama residents to marketize their own housing, not just at Cadman Towers but in buildings all across the city. Most recently, in 2012, cooperators voted down a bid to privatize Cadman Towers (as opposed to retaining a resale cap for each unit, as the current plan would do). Some 10 percent of NYC's Mitchell-Lama co-ops have already undergone privatization; more than half of Mitchell-Lama rental apartments in the city have also gone down this road.
Residents of buildings like ours often justify the privatization of public housing by citing the rising costs of repairs, and our diminishing financial support from the government. Indeed, when I talk with my neighbors about why we should vote down the proposal, and instead work to hold our elected officials responsible for adequately funding social housing programs like Mitchell-Lama, many shareholders respond by attacking such a notion as naïve and illusory. Among Cadman residents, the impression that the government has irrevocably abandoned its side of the bargain is pervasive; it has led them to dismiss the values of equity, inclusion and affordability on which Mitchell-Lama was developed.
Ironically, 2-to-11 conversion would merely enable government to further abdicate its responsibility for funding a public asset. We would be moving the onus of investment onto wealthier, private individuals; as follows, Cadman's units would become more exclusive, its management less regulated—a microcosm of the broader landscape of gentrification in Brooklyn.
Legislators who are intent on preserving and expanding truly affordable housing must discontinue the 2-to-11 conversion option altogether in order to protect Mitchell-Lama housing from becoming yet another victim of gentrification. Moreover, lawmakers would do well to build upon the Mitchell-Lama Reform Bill signed into state law in December of 2021. The bill made it more difficult for Mitchell-Lama buildings to privatize, and tightened transparency rules for boards seeking semi-privatization, like ours. Rather than devising escape hatches out of one of New York's signature affordable housing programs, our government should be providing more funding and support for its preservation.
Likewise, if shareholders at Cadman Towers and elsewhere were serious about wanting to maintain housing that low- and moderate-income New Yorkers can afford, they would clamor for our local and state government to redouble its investment in Mitchell-Lama housing, rather than trying to dissolve the program from within.
Jerald Isseks is an educator, a writer and organizer who lives in Brooklyn.
The post Opinion: NY's Mitchell-Lama Housing Should Be Preserved, Not Dismantled appeared first on theillinois.news.