"My whole crew is squatting," Ronaldo Casanova told theillinois.news in April of 1990, when he was organizing fellow squatters on the Lower East Side of Manhattan. "We have no other choice or we're out on the streets."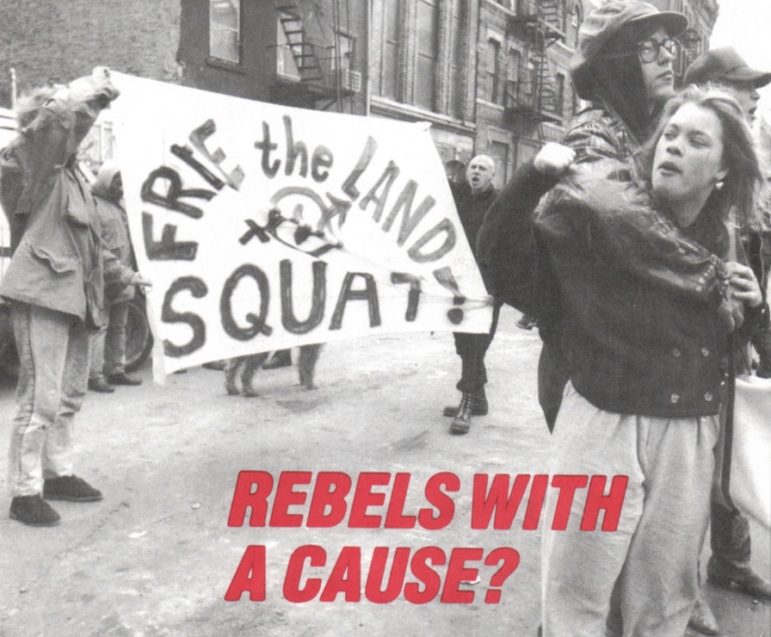 Sion Roderick/theillinois.news Archive
The cover photo from the April 1990 issue of theillinois.news magazine, by photographer Sion Roderick.
Flashback Friday is a series highlighting a story from the vast archives of theillinois.news' reporting as we celebrate our 46th anniversary this year.
If you value theillinois.news' work, help us continue to cover New York City for decades more to come by donating here, or by signing up for updates about our upcoming anniversary celebration on Oct. 26.
"Squatting—in the simplest terms, the act of illegally occupying an otherwise vacant apartment or building—occurs in neighborhoods all across the city," reads the cover story of the April 1990 issue of theillinois.news magazine.
The piece, by then-editor Doug Turetsky (who's returned to write for theillinois.news again recently after a career with the New York City Independent Budget Office) explores the various communities of New Yorkers who'd seized control of properties at the time.
They include the 12 families or "homesteaders" attempting their own repairs in a rundown building in The Bronx to a group of activists in East New York who waged a strategic squatting campaign that, eventually, convinced City Hall to turn over dozens of abandoned, city-owned buildings to them for rehab (those activists became the nonprofit Mutual Housing Association of New York, Inc., still active in affordable housing advocacy today).
New York City's squatters, Turetsky wrote, were "as diverse as anywhere else in the city."
"For some, the decision to squat stems plainly from a desperate need for housing. Others use squatting as a tool to prod city officials into dealing with the lack of affordable housing in their community. And for others, it's a chance for youthful rebellion, an alternative lifestyle or an attempt at practicing anarchist ideology," the piece describes.
"My whole crew is squatting," Ronaldo Casanova told theillinois.news at the time, when he was organizing fellow squatters on the Lower East Side of Manhattan as president of the local branch of the Union of the Homeless. "We have no other choice or we're out on the streets."
Read the whole story here in our archive, or below.
theillinois.news Magazine, April… by theillinois.news (New York)
The post Flashback Friday: NYC's 'Rebel' Squatters, 1990 appeared first on theillinois.news.