"With years of work, riders pried congestion pricing from a recalcitrant Albany. We intend to see the program fully and fairly rolled out next year. When congestion pricing is implemented, drivers will pay their equitable share to access the most heavily trafficked and transit adjacent neighborhoods in the United States."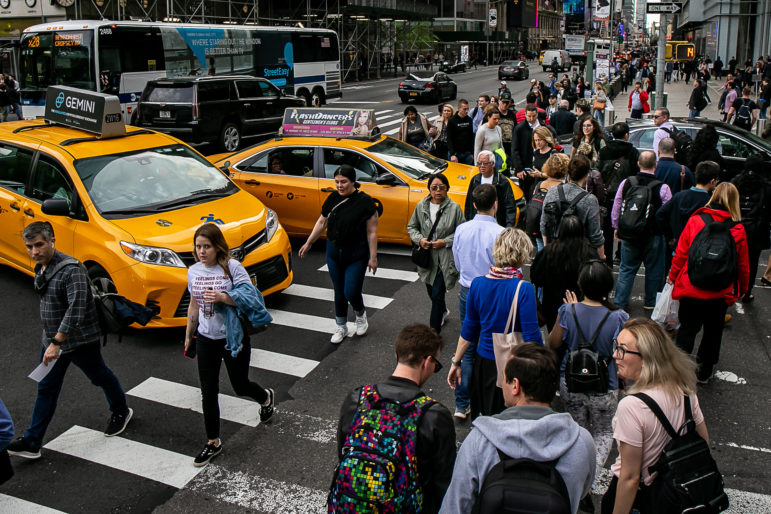 Adi Talwar
Friday evening traffic at the intersection of 42nd Street and 6th Avenues in Manhattan.

CityViews are readers' opinions, not those of theillinois.news. Add your voice today!
Everyone's talking about congestion pricing, again. In 2019, after more than five decades of pushing for a comprehensive program to toll vehicles entering Manhattan's central business district, congestion pricing was made law. The policy would help remedy gridlock while raising billions to finally fix the subway.
The conventional wisdom is that New York passed congestion pricing because the subway was broken and that was the deciding factor for legislators. But ancient signals didn't lobby Albany policymakers. Door problems didn't prod the governor to act. Inaccessible stations didn't join the fight for change. Instead, thousands of subway and bus riders organized. Together, we won a plan and funds dedicated to fix our public transit system.
With years of work, riders pried congestion pricing from a recalcitrant Albany. We intend to see the program fully and fairly rolled out next year. When congestion pricing is implemented, drivers will pay their equitable share to access the most heavily trafficked and transit adjacent neighborhoods in the United States.
In congestion pricing, riders will reap a lockboxed revenue stream that will make our subway far more reliable and accessible, upgrading signals across the city and paying for hundreds of new station elevators and modern subway cars.
The late Ted Kheel, who first proposed congestion pricing in 1965, was prescient when he said: "Transportation is as much a civil rights issue as housing and education and jobs." That urgency inspired activists from the New York City Environmental Justice Alliance to the Chinese-American Planning Council to New York Communities for Change to board buses to the State Capitol and demand congestion pricing to address long standing inequities.
The Community Service Society,* the city's leading anti-poverty organization since the 19th century, backs up the advocacy: 50 times as many working poor New Yorkers rely on public transit and will benefit from the upgrades as might pay the congestion charge. Overall, 56 percent of New Yorkers ride transit to work, a number that balloons to 86 percent for those who work within the congestion zone of Manhattan below 60th Street.
A decade ago, as subway delays began mounting, the grassroots Riders Alliance formed to hold elected officials accountable for improving public transit. After first organizing along three lines in Brooklyn, riders later released a citywide collection of Subway Horror Stories and rode the train with a Cardboard Cutout Cuomo when the former governor ignored requests to accompany them on their unreliable commutes.
Later, after delays quadrupled and New York suffered the "Summer of Hell" on rails, riders made the rounds to dozens of district offices to pitch congestion pricing to fix the subway. When the MTA convened fare hike hearings, we held our own fare hike through Bay Ridge with heavy backpacks full of refreshments and sleeping bags in the event we encountered spiraling delays.
During budget season, Queens subway riders played #FixTheSubway BINGO at 74th Street-Roosevelt Avenue Jackson Heights. We filled two buses for the largest ever transit lobby day in Albany where we delivered over 200 cans of sardines to members of the Assembly and Senate in a final push for humane transit service.
At last, with one week left until the budget was adopted, riders and our labor allies confronted two Assembly holdouts at an 11th hour opposition press conference. The next day, Speaker Carl Heastie announced that the Assembly was ready to move forward with congestion pricing. The Senate agreed and the governor signed the budget bills into law.
The road to congestion pricing has proven bumpy. The Trump administration sat on New York's application to set up the toll during its final 20 months in office. The pandemic created the worst fiscal crisis in transit history. An exhaustive federal review now means that congestion pricing is still more than a year away from becoming reality.
Opponents may say that the small, well-heeled percentage of Manhattan-bound commuters who drive deserve a break and the transit system that millions rely on should learn to live on less. They say the congestion charge won't improve traffic conditions below 60th Street and that it simultaneously will somehow also worsen gridlock elsewhere. These critics have no alternative dedicated revenue stream to fix the subway. Nor did they struggle for years for a solution to a near century of deferred maintenance of our basic public infrastructure.
The fact is that riders organized and won a dedicated revenue stream worth billions of dollars to fix the subway. The situation is urgent. Millions of riders, including hundreds of thousands of essential workers, still daily suffer unreliable commutes that waste valuable time and cause anxiety and frustration. Inaccessible stations still exclude half a million New Yorkers who have trouble with stairs.
The modern, reliable, accessible subway system that millions of New Yorkers deserve is in sight. Congestion pricing is the single largest source of funds to bring it about—and the only one that will speed up our slowest-in-the-nation bus service. We will continue to hold our leaders accountable for getting the job done.
Pearlstein is the policy and communications director at the Riders Alliance.
The post Opinion: Transit Riders Won Congestion Pricing. We Deserve To See It Happen appeared first on theillinois.news.