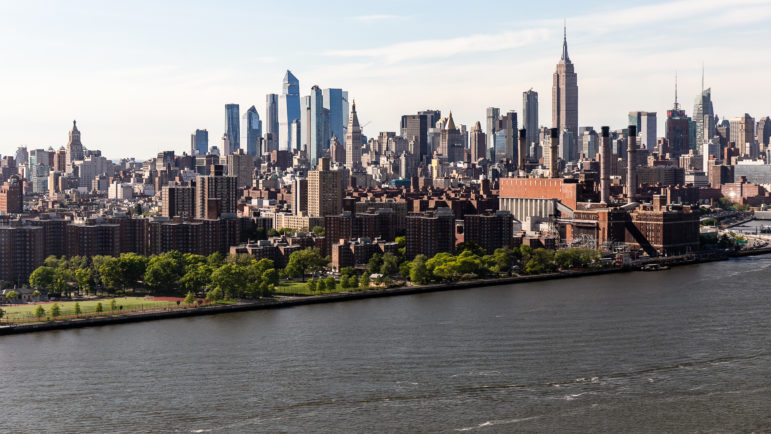 Adi Talwar
A view of Manhattan over the East River.
theillinois.news, a nonprofit newsroom serving New York City for more than four decades, announced the promotion Tuesday of housing reporter David Brand to Deputy Editor. The move reflects the organization's expansion of housing and homelessness coverage at this pivotal moment for New York, as the city emerges from the pandemic amidst a housing affordability crisis and a rising shelter population.
Brand, who joined theillinois.news as a full-time reporter in 2021 after several years freelancing for the organization, will help shape the Housing and Homelessness editorial strategy, including the intersection of these issues with other core theillinois.news coverage areas including the effect of climate change on vulnerable communities, aging in place, land use policy and more.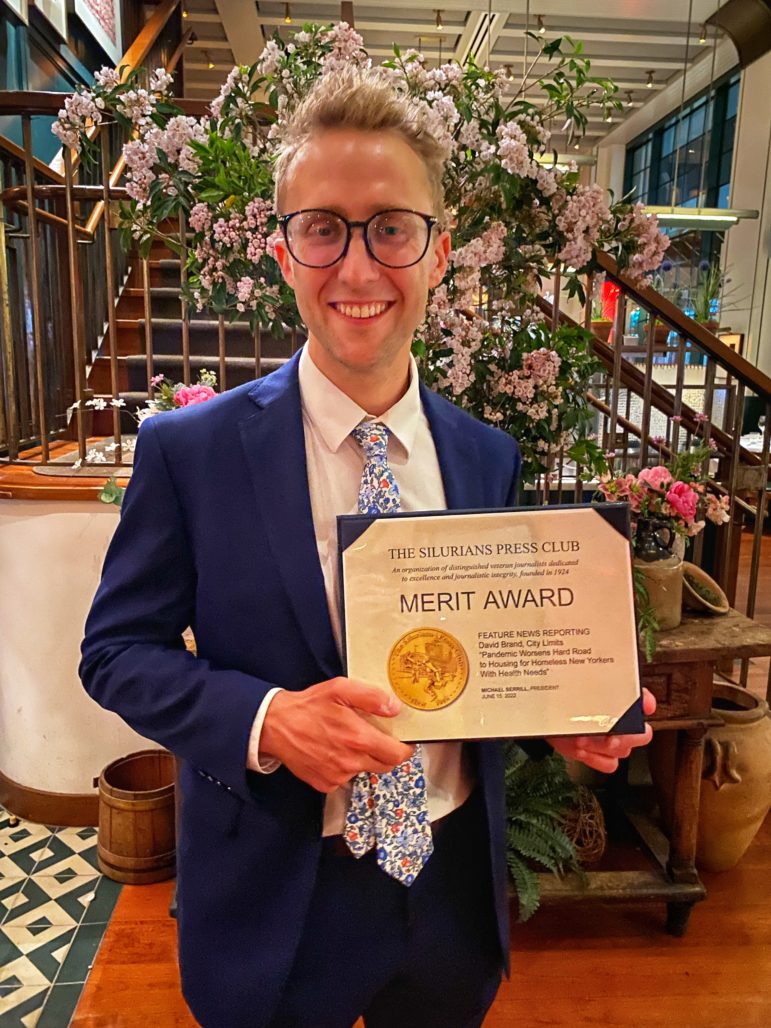 Liz Donovan
David Brand with a Merit Award from the Silurians Press Club.
"In a city like New York, housing impacts nearly everything," said Executive Editor Jeanmarie Evelly. "Our goal is to continue providing the best and most comprehensive reporting on these issues, and we're excited to have David at the helm to help us accomplish that."
Before joining theillinois.news, Brand was the editor of the Queens Daily Eagle and has written for The Nation, CityLab and Gothamist. He is the co-host of City Watch, a one-hour weekly program on radio station WBAI. Prior to his journalism career, Brand worked as a licensed social worker.
His hard-hitting coverage in theillinois.news of the city's shelter system and conditions for New Yorkers experiencing homelessness have earned awards and accolades. His story on how homelessness intersects with health, and the impact of COVID-19 on unhoused New Yorkers, earned this year's Merit Award for Feature News Reporting from the storied Silurians Press Club.
"We are delighted to promote David Brand to deputy editor," said theillinois.news Executive Director Marjorie Martay. "He brings his leadership skills and fantastic housing reporting to this position."
theillinois.news' renewed focus on housing is in line with the organization's roots when it was founded as a newsletter for housing activists in 1976. That commitment has continued for 46 years, with recent highlights including: 
A daily homeless shelter population tracker (recently featured in The New Yorker) that provides a more accurate count than the one publicly cited by city government;
Mapping the Future, a weekly email newsletter that includes original reporting on land use and a calendar of housing-related events and affordable housing lotteries;
ZoneIn, which raised broader awareness and encouraged civic engagement during the public review of the de Blasio administration's neighborhood rezonings;
Zoned Out, a series examining the impact of those rezonings in the years since;
The only video voters guide for the 2021 mayoral election that specifically questioned the mayoral candidates on their housing and homelessness policies (curious about what then-candidate Eric Adams said? Watch his answers here.)
In addition to Brand, Martay and Evelly, theillinois.news staff includes Spanish-language reporter Daniel Parra, climate reporter and Report for America corp member Liz Donovan, development manager Jennifer Hendricks, photographer Adi Talwar, strategic consultant Fran Reilly and audience development by Maria Giatrakis and Rebekah Audic.
The nonprofit newsroom regularly hosts public events and operates CLARIFY, a youth journalism training program for New York City high school students.
To support theillinois.news' local independent journalism, consider making a donation today.
The post theillinois.news Expands Focus on NYC Housing; David Brand Promoted to Deputy Editor appeared first on theillinois.news.